Kindergarten artists created these special self-portraits to give their moms for Mother's Day. The artists learned that a self-portrait is a drawing or painting of themselves. I love the innocence of Kindergarten drawings, and knew their moms would love their drawings too. I struggled with directing the students too much so all the portraits looked the same, but directing them enough so they would have success with their portraits. I decided to take the students through an exercise of exploring their faces and bodies so they did not miss any parts. We pulled our shoulders up to see what we would look like if we didn't have a neck and they thought that would look pretty silly! We also discovered that our eyes are in the middle of our heads, not our noses. After exploring their bodies, students eagerly began drawing their portraits while adding their own unique touches. After the portraits were finished and the tissue paper backgrounds were added, their classroom teachers helped them write notes and Mother's Day wishes to their moms around the border.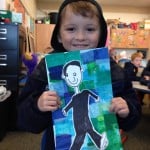 .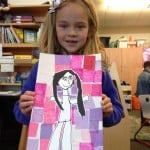 This project meets the following Michigan Visual Arts Standards:
Explore the elements of art through playful sensory experiences.
Recognize that art can be created for self expression or fun.
This project can be found on our online art gallery
ARTSONIA